Patient Advocates and Providers Talk Patient Safety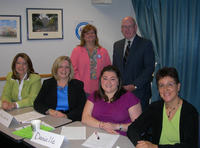 Pictured (from left, seated): Grena Porto, R.N., Principal, Quality, Risk and Safety Healthcare Consultants; Anna Gaeta, R.N., Patient Safety Manager, Veterans Affairs Medical Center, Northport; Danielle Ezzo, Pharm. D., Clinical Coordinator of Ambulatory Care, Long Island Jewish Medical Center and Assistant Clinical Professor, St. John's University; and Leslie Farrington M.D., private practice, Lake Success. Standing: Ilene Corina and Kevin Dahill.
Patient safety advocates joined forces with nurses, quality managers, and administrators from Long Island's hospitals on May 5 and re-committed to work collaboratively on a variety of patient safety initiatives. The group gathered at the offices of co-sponsor Nassau-Suffolk Hospital Council for the final meeting of the Long Island Patient Safety Advisory Council, which was created and facilitated by nationally-recognized patient safety advocate Ilene Corina through her grassroots organization, PULSE.
The American Hospital Association provided Ms. Corina a patient safety fellowship, which enabled her to assemble this advisory council comprised of representatives from a broad spectrum of patient populations. The fellowship was supported by the member hospitals of NSHC and by a separate grant from North Shore-Long Island Jewish Health System.
The highlight of the meeting was the panel of experts who spoke freely about their experiences with patient safety, both as providers and patients. Panelists included nurses, a physician, and a pharmacist.
"Every day hospitals are improving their standards of safe care in all clinical areas," said Kevin Dahill, President and Chief Executive Officer, NSHC. "It was our honor to work with the Long Island Patient Safety Advisory Council and PULSE of New York, and we look forward to working with PULSE on the safety challenges that lie ahead." Contact: Janine Logan
Published May 12, 2010