HTNYS Reinvents 36th Annual Trustee Conference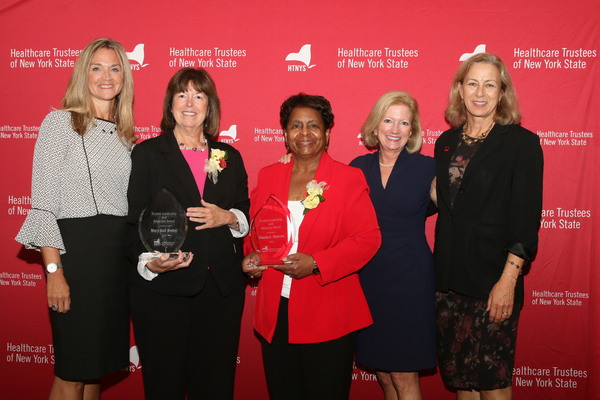 HTNYS recognized Sharon Hanson of Erie County Medical Center Corporation and Mary Gail Biebel of Columbia Memorial Health with the annual HTNYS Trustee Leadership and Advocacy Award. Pictured (from left): HTNYS Executive Director Sue Ellen Wagner; Mary Gail Biebel; Sharon Hanson; Sharon Norton Remmer, Chairwoman, HTNYS Board of Governors and Past Board Chairwoman and Trustee at Brookhaven Memorial Hospital Medical Center; and Beatrice Grause, President, HANYS.
More than 300 hospital and healthcare system trustees and chief executives from across the state gathered last weekend at Healthcare Trustees of New York State's (HTNYS) 36th Annual Conference, Going for Governance Gold, in Lake Placid. The iconic Olympic village in the High Peaks region of the Adirondacks provided a new and inspired setting for a completely new Conference experience.
The expanded three-day agenda featured 16 expert speakers on topics ranging from healthcare consumerism, the patient experience, and predictions for the presidential race, to a closer look at quality measures for population health and one board's journey to affiliation. Trustee participants gained new insight and learned about actionable strategies to bring back to their boardrooms for leading and governing their organizations in this transformative era.
Keynote speaker Adrienne Boissy, M.D., Chief Experience Officer, Cleveland Clinic, brought a thoughtful approach to a shared goal—improving the patient experience. Dr. Boissy shared examples of innovative initiatives being used at her healthcare system including trustee participation in leadership rounding, instant patient access with walk-in or same-day doctor appointments, and patient advisory councils to ensure the patient voice is heard. She said it is critical for hospitals to improve communication and build meaningful relationships with staff, patients, and families through a more empathetic and human-centered approach.
Two speakers discussed healthcare consumerism in today's healthcare environment. Ryan Donohue, Corporate Director of Program Development at National Research Corporation, set the stage by examining issues and trends. Drawing on research, he provided insight into the hearts and minds of today's healthcare consumers. Mr. Donohue explained why consumers feel confused and lost in the healthcare system, why many seek convenience over quality, and why hospitals need to do a better job of earning consumer trust.
Andrew Sussman, M.D., President, CVS MinuteClinic, discussed the growth of CVS' retail health clinics and the intent to eventually expand MinuteClinics from downstate to upstate New York—guided by the principles of providing the right care at the right level, filling the primary care gap, and complementing existing healthcare services while supporting care coordination. He discussed CVS' strategic affiliations with healthcare systems in the state and nation, and opportunities for future collaboration, including electronic health record connectivity and home infusion.
HANYS' staff contributed expertise and insight to several breakout sessions on topics ranging from bundled payment projects and value-based payment to the Delivery System Reform Incentive Payment (DSRIP) program.
American Hospital Association Vice President, Member Relations, Debra Stock, presented findings from a Blue Ribbon study and analysis of governance structures used by award-winning hospitals in partnering to improve community health.
Trustees also had the opportunity to hear HANYS' President Bea Grause discuss key federal and state healthcare reform policies and challenges. Ms. Grause outlined HANYS' high-level organizational goals and strategies and recognized the crucial role of trustees as partners in advocacy in working toward those shared goals. She noted that trustees are vital to the future of healthcare as passionate champions of community and patient needs.
John Harrington, Forward on the 1980 U.S. Olympic Hockey Team, returned to Lake Placid to share his team's epic story—and his gold medal—as the Conference luncheon speaker. Mr. Harrington recounted how individual strengths came together as a team under the leadership of a demanding and visionary coach to ultimately stun the world and inspire the nation with the "Miracle on Ice" upset against the Soviet Union and subsequent gold medal win. He also shared how his Olympic experience influenced his life as a coach and father—encouraging his children and his hockey players to work hard and have fun.
Closing speaker, Charlie Cook, editor and publisher of the Cook Political Report, one of the nation's sharpest political handicappers, shared his inside-the-beltway insight and analysis to explain how we arrived at where we are today in the race for the White House, and his predictions for who will be our next president.
HTNYS proudly recognized Sharon L. Hanson of Erie County Medical Center Corporation and Mary Gail Biebel of Columbia Memorial Health with the annual HTNYS Trustee Leadership and Advocacy Award. The award honors trustees who demonstrate leadership, commitment, and decision-making acumen to best guide and position their organization in today's evolving healthcare environment. HTNYS also recognized John Lane of Winthrop-University Hospital for his leadership and commitment to HANYS Political Action Committee (PAC) fundraising campaigns over many years. He was awarded the HANYS PAC Outstanding Statewide Leadership and Service Award. HANYS and HTNYS congratulate these talented and dedicated trustee leaders.
Planning for the 37th Trustee Conference is already underway. Mark your calendars for Pinnacles of Governance, September 15-17, 2017 and join us in Lake Placid! Contact: Sue Ellen Wagner
Published September 22, 2016