2018 Trustee Conference: Big Speakers Out-of-the-Gate in a Winning Setting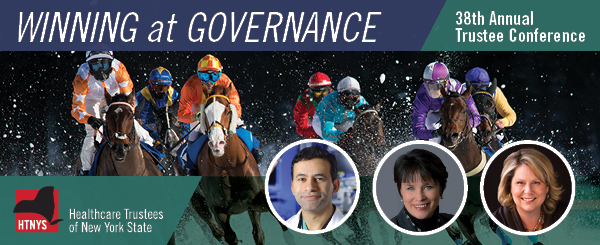 Healthcare Trustees of New York State is excited to bring you the first details about our 2018 Trustee Conference in Saratoga—September 14-16.
Opening Keynote: Marty Makary, M.D., Professor of Surgery and Health Policy, Johns Hopkins School of Medicine
As creator of the ground-breaking "surgical checklist," Dr. Makary is synonymous with innovation in quality and patient safety. The New York Times best-selling author will examine transparency, the next generation of quality measures, and whether America suffers from "too much" medical care.
Four additional sessions will be led by two renowned governance experts:
Maureen Swan, President, MedTrend, Inc.
Maureen Swan returns to advance the discussion on affiliations and the evolution of systems from both the hospital and system perspective and the impact on local, regional, and corporate boards. In a separate session, she will show trustees how to use board self-assessment to achieve excellence.
Kimberly McNally, Kimberly McNally, McNally & Associates
It's all about relationships. Kimberly McNally will focus separately on boards and their CEOs, and boards and physicians to provide trustees with practical guidance on how to establish, build, and maintain effective leadership partnerships that strengthen governance.
Bets are that you'll enjoy Saratoga Springs. Our new Trustee Conference location is a destination for horse-racing tradition, spas, the arts, and so much more! Online registration opens in early July. Join us in Saratoga Springs! Contact: Sue Ellen Wagner
Published April 13, 2018