HANYS Presents its 2018 Community Health Improvement Award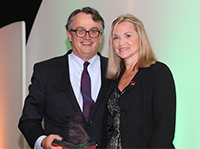 Hugh R. Thomas, Executive Vice President and Chief Administrative Officer, Rochester Regional Health System, accepted the 2018 Community Health Improvement Award on behalf of Unity Hospital's Healthy Moms Program; pictured here with Sue Ellen Wagner, Vice President of Community Health, HANYS, and Executive Director, Healthcare Trustees of New York State.
HANYS presented its 2018 Community Health Improvement Award to Unity Hospital in the Rochester Regional Health System for its Healthy Moms program. This community-based program has had a significant impact on lives and health outcomes for inner-city women and infants in Rochester since 2010. Healthy Moms is supported by the collaborative efforts of Rochester General, Strong Memorial, and Highland hospitals, OB/GYN practices, and community-based organizations.
Watch our video to learn more about Unity Hospital's Healthy Moms program and its results. More program information can be found in our press release.
HANYS established the Community Health Improvement Award in 1997 to recognize outstanding initiatives designed to improve the health and well-being of communities. The award is presented to facilities and programs that target specific community health needs, demonstrate leadership, collaborate among diverse groups, and achieve quantifiable results.
Published July 5, 2018