Register Now: November Federal SWAT Program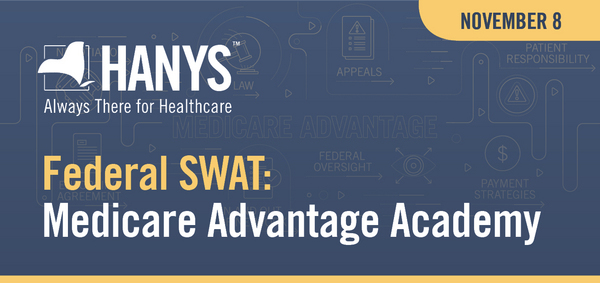 Register now for HANYS' Federal SWAT: Medicare Advantage Academy, taking place November 8.
This in-depth program focuses on the growing challenges providers face when conducting business with self-insured and Medicare Advantage plans. The program will help you develop skills and tactics to strengthen your hospital's approach in managing plans not subject to state law provider protections.
Our robust agenda includes workshops providing hands-on experiences to applying lessons learned. The program features expert faculty from King and Spalding, a national law firm with deep expertise and experience in this space, including a substantial litigation footprint and regular representation of providers in managed care matters.
Attendees may also register for a November 7 pre-conference workshop on self-insured and ERISA plans. A special room rate at the Westchester Marriott is available now through October 17; event registration closes October 29.
For more information about this SWAT program, contact Victoria Aufiero, Director, Behavioral Health, at (518) 431-7889 or at vaufiero@hanys.org. If you have questions about registration, contact Healthcare Educational and Research Fund at (518) 431-7867 or at learning@hanys.org.
Published September 7, 2018