"Embrace technology" sessions explore new tech entrants and tools in healthcare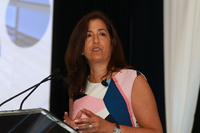 Marisa Barbieri, chief executive officer, Competitive Solutions, and founder, The 1Life Project, presented and led a workshop with members during "AI and Healthcare" about what steps they can take to be best prepared for an artificial intelligence and data-driven future.
Many conference presenters agreed on one key theme: technological advancements are changing how healthcare is delivered – and what patients expect and want from their providers. "Embrace technology" conference sessions were designed to help providers understand new technologies and tools, as well as take advantage of the opportunities they provide. A series of tech-focused sessions aimed to help HANYS members incorporate new technology into growth strategies, clinical care and operations.
Specific topics discussed include the overall digital transformation of the consumer experience in healthcare, cybersecurity, robotics process transformation and artificial intelligence. Sessions included both presentations and group exercises that spurred discussion amongst members about how new technologies can be leveraged and how providers can overcome obstacles – such as costs and talent needed – to fully embrace these opportunities.
Published June 27, 2019