"Innovate in workforce" sessions review workforce trends, provide leadership best practices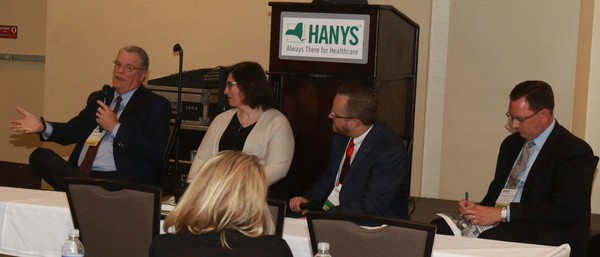 From left: William Myhre, senior director, Workforce Transformation/Human Resources, Staten Island Performing Provider System, Elisa Arespacochaga, vice president, American Hospital Association's Physician Alliance, session moderator Evan Brooksby, HANYS' director, policy analysis and special projects, and Mark F. Klyczek, MS, FACHE, LNHA, senior vice president, Long-term Care Division, Rochester Regional Health, discuss "Innovating for the Workforce of Tomorrow."
Demographic trends show that the demand for healthcare workers will increase over the next decade as the baby boom generation ages. At the same time, workers and employees are seeking ways to have more flexibility in their scheduling, scope or job function. The idea of the "gig" or "shared" economy is also impacting healthcare. "Innovate in workforce" conference sessions sought to help members better understand some of the changes occurring in healthcare and provide best practices on how to adapt leadership approaches.
Two pre-conference sessions focused on how leaders can better drive change and success in the areas of quality, safety, patient experience and workplace culture. A panel discussion covered various workforce challenges being experienced at the health system, regional and local levels, from recruitment issues and financial constraints to supporting employees who face issues that inhibit their ability to work, such as lack of transportation and demands as a caretaker at home. One presentation looked at Trajectories, a prospective modeling technique that combines systems engineering and social science techniques to model potential failures within clinical processes.
Overall, these sessions provided strategies to attract and retain staff and support them in their efforts to drive continuously high-quality patient outcomes.
Published June 27, 2019