HANYS issues new resource on healthcare trends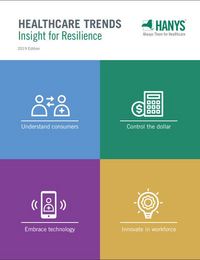 HANYS is pleased to present Healthcare Trends: Insight for Resilience, a strategic planning resource for hospital and health system leadership teams and governing boards. This report examines the changing healthcare landscape in New York, provides key data points and offers strategies for resilience.
Accompanying the report is a slide deck and video that offer a brief overview of the report.
Healthcare Trends: Insight for Resilience is a product of HANYS' Strategy, Innovation, and Policy Committee, which built on the work of the HANYS board of trustees' year-long scenario planning process. Contact: Courtney Burke
Published October 4, 2019