HANYS' Survey Shows Need for Physicians Is Growing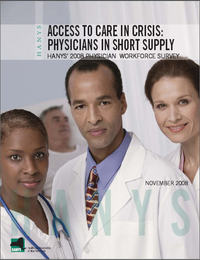 The need for physicians in primary care, general surgery, orthopedics, urology, and psychiatry has greatly increased since last year, according to the results of HANYS' 2008 Physician Workforce Survey, Access to Care in Crisis: Physicians In Short Supply. HANYS released the survey results this week.
The findings from this survey, which represent 54% of hospitals statewide and 71% outside of New York City, reflect the need for more than 1,400 new physicians outside of New York City.
The findings also show that because of physician shortages, many hospitals have had to reduce or eliminate services (25%), have had times when the emergency department was not covered by a particular specialty (55%), have had to pay for on-call services (57%), and have had to employ temporary staff, or locum tenens, to cover certain specialties (75%).
Further, hospitals reported spending more than $29 million in recruitment costs to hire only 732 new physicians in 2007. Barriers to recruitment include a lack of candidates, geographic location, and the inability to pay a competitive salary.
While prospects for costly solutions are hampered by the economic crisis, HANYS' physician workforce advocacy agenda includes a mix of initiatives--some that will require investment and others that can be achieved without large increases in spending. HANYS will continue its advocacy at both the state and federal level to increase the number of physicians in under-served areas of the state. Contact: Sherry Chorost
Published November 19, 2008