HANYS' Members Provide Support for Haiti Disaster Relief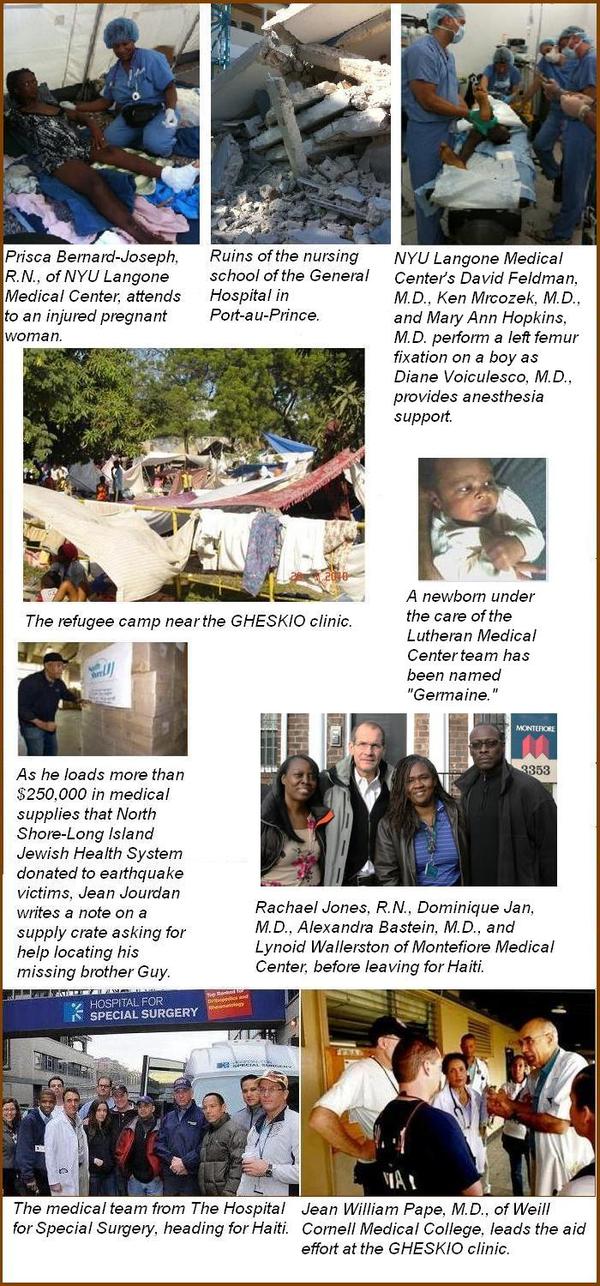 HANYS' members have responded in a multitude of ways to help the relief efforts after the January 12 earthquake in Haiti and its subsequent aftershocks. Some have sent medical teams and supplies. Others have worked with community and regional organizations to provide supplies and aid. Many facilities have held fund drives to provide much-needed cash for the relief effort.
This disaster has shown the generosity of all Americans. It has also highlighted the lengths to which health care providers will go to care for those in need. New York's providers have shown ingenuity and determination to overcome logistical barriers, all to provide medical care and supplies to victims in the chaotic aftermath of this disaster.
Note: The examples below show the breadth of the aid members are offering based on information gathered from members, but this is not a complete list of every member's efforts.
Albany Medical Center, the City of Albany, and the Palace Theatre will hold a "Hearts4Haiti" fundraising campaign that will include selling paper hearts for a minimum $1 donation, and a benefit concert February 11. All proceeds will benefit Partners in Health, a non-profit organization that has been in service in Haiti for more than 20 years, and has taken over the national hospital in Port-au-Prince.
Bon Secours Health System is working with Catholic Relief Services, Catholic Medical Mission Board, and other Catholic health systems to provide relief support. Bon Secours will immediately send $50,000 to begin relief efforts. In addition, the system will match donations from employees up to $100,000.
Catholic Health Services of Long Island has begun a fundraising effort for Haiti relief, which will be distributed through Catholic Relief Services.
Albany Memorial Hospital and Samaritan Hospital (Northeast Health) donated cases of sterile gauze and gloves for a Capital Region group traveling to Haiti to help treat children from an orphanage where all 29 children survived but had no medical care for injuries.
Glens Falls Hospital donated bins of medical and surgical supplies to volunteers who left for Haiti to assist in relief. The hospital is working with Yankee Alliance and the International Medical Equipment Collaborative to provide medical and surgical supplies, and is collecting funds for Doctors Without Borders.
A team of nine doctors, three nurses, and two surgical technicians from The Hospital for Special Surgery went to Haiti on a borrowed corporate jet. David Helfet, M.D., the hospital's Chief of Orthopedic Trauma Surgery, is in charge of the group. Soumitra Eachempati, M.D., the head of emergency medicine at NewYork-Presbyterian Hospital, traveled with the team.
Physicians from Kingsbrook Jewish Medical Center went to Haiti through a mission by the National Organization for the Advancement of Haiti. Kingsbrook is located in central Brooklyn, home to 88,000 Haitian immigrants, and many of its staff and patients hail from the Caribbean nation. Kingsbrook is holding prayer services for employees and is partnering with mental health professionals at New York University to provide counseling sessions to staff.
John Seitz, M.D., obtained medical supply donations from Lenox Hill Hospital, where he works as an anesthesiologist, and personally flew them down to Port-Au-Prince.
Dr. Tom Lyon, Physician Chief of Orthopedic Trauma at Lutheran Medical Center, traveled with a team of 19 medical and surgical professionals to Haiti. Dr. Lyon's updates are chronicled online, including the story of "Baby Germaine," a newborn under their care. Lutheran Medical Center has raised $7,000 so far for relief efforts. Lutheran's CaribbeanAmerican Family Health Center, which serves the Brooklyn Haitian community, is very active; Lutheran is offering crisis and grief counseling for staff and the community.
A group of 27 surgeons, orthopedic surgeons, anesthesiologists, pediatricians, nurses, and surgical technicians from several New York City hospitals flew in a privately donated jet with 3,000 pounds of supplies to the National Hospital in Port-au-Prince. They joined Ernest Benjamin, M.D., Division Chief of Critical Care in the Department of Surgery and Director of the Surgical Intensive Care Unit at The Mount Sinai Hospital. The medical team includes staff from Mount Sinai Hospital, Mount Sinai Queens, Elmhurst Hospital Center, New York Hospital Queens, Maimonides Medical Center, and Beth Israel Medical Center/Continuum Health Partners.
A team of Montefiore Medical Center clinicians joined The Surgeons of Hope Foundation in Port-au-Prince. The team is led by Dominique Jan, M.D., Chief of Pediatric Surgery at the Children's Hospital at Montefiore. The relief team brought its own medical supplies and equipment.
Within hours of the earthquake in Haiti, New York City Health and Hospitals Corporation (HHC) President Alan Aviles appointed Antonio Martin, Senior Vice President of the Central Brooklyn Family Health Network and Executive Director of Kings County Hospital Center, to coordinate HHC's response to assist the Haitian people. Because Kings County Hospital serves a large Haitian population, the hospital has organized support groups for staff and community to cope with their grief and loss. The HHC Foundation has also established a relief fund.
A medical team headed by New York Downtown Hospital orthopedist Gary Sherman, J., D.P.M., has been in Haiti working with an Israeli disaster-response group. A group of paramedics from the hospital is also in Haiti through the New York Medics organization.
Nyack Hospital is holding a relief drive, with contributions going to The Rockland County Haiti Relief Campaign. Working with Rockland Paramedic Services, Nyack Hospital donated a multitude of medical and surgical supplies to the relief effort.
North Shore-Long Island Jewish Health System donated $250,000 in medical supplies, equipment, and medications for Haiti earthquake victims. The medical supplies donated--everything from crutches to antibiotics--are being airlifted to a physician group called Hope for a Healthier Humanity. North Shore employees have donated more than $25,000 over the past week.
The NYU Langone Medical Center Haitian Effort and Relief Team in Haiti is sharing its experiences on the NYU Langone Medical Center Web site by posting updates at http://heart.med.nyu.edu.
Orange Regional Medical Center has shipped more than $10,000 worth of supplies to the Afya Foundation, which operates as a clearinghouse and conduit for medical supplies provided to voluntary physician groups in Haiti. The donation includes sutures, gauze, bandages, exam gloves, graspers, and endomechanical staplers.
Gregory Dalencourt, M.D., a surgeon; and Dr. Rajesh Patel, M.D., pulmonologist at Peconic Bay Medical Center are among the medical professionals from that facility who are assisting victims in Haiti.
Several groups of physicians from Rochester General Hospital are in Haiti to help in the medical relief efforts. The volunteers also helped transport several physicians associated with the University of Rochester Medical Center. Rochester General Hospital has also donated supplies via InterVol, a Rochester-based non-profit organization that manages the recovery and redistribution of medical supplies and equipment.
James Sanders, M.D., Chief of Pediatric Orthopedic Surgery at the Golisano Children's Hospital at Strong, is leading a team of four doctors from Strong Memorial Hospital in Rochester to Haiti to perform orthopedic surgery. He is joined by hand surgeon, John Elfar, M.D., pediatric anesthesiologist, Dawn Sweeney, M.D., and senior orthopedic resident, Jon Gabel, M.D.
Daniel Gabriel, M.D., a pediatrician at St. Elizabeth Medical Center in Utica, is finalizing plans for a week-long trip to Haiti to assist victims. Students at the St. Elizabeth School of Radiography will hold a "Hope for Haiti" fundraiser on February 10 to benefit the people of Haiti.
As of this week, St. Mary's Hospital, Amsterdam employees have donated $20,768.48, and since the hospital is matching employee donations,

that brings St. Mary's total donation to the people of Haiti to $41,536.96.

Three Unity Health System residents, two physician assistants, and a registered nurse are in Haiti with Hope Extended.

Unity Health System is matching employee donations up to $5,000, and will forward these donations to the American Red Cross Haiti relief effort.

Weill Cornell Medical College's affiliated GHESKIO clinic has provided continuous medical care in Haiti since 1982. Since the January 12 earthquake, GHESKIO has been providing humanitarian assistance to 5,000 refugees, emergency care to thousands affected by the disaster, and continues to provide life-saving medications to people with HIV/AIDS. An article in the New England Journal of Medicine provides details of the clinic's work since the earthquake. It was authored by Jean William Pape, M.D., Founding Director of the GHESKIO clinic and professor of medicine at Weill Cornell Medical College; Warren D. Johnson Jr., M.D., the B.H. Kean Professor of Medicine and director of the Center for Global Health at Weill Cornell Medical College; and Daniel W. Fitzgerald, M.D., Associate Professor of Medicine at Weill Cornell Medical College.
White Plains Hospital Center donated medical supplies that were taken to Haiti, and plans a fundraiser on February 9.
Published February 2, 2010