Kevin Dahill receives HANYS Distinguished Service Award
Dahill has left an indelible mark on those he has worked with and the entire healthcare field
His background as a hospital CEO deepens his understanding of critical healthcare issues.
His calm and kind demeanor helps him connect with politicians and healthcare professionals alike.
And his insight, dedication and tenacity make him a powerful leader through a time of great change.
Over his more than 50 years in New York state healthcare, Kevin Dahill has left his mark not only on the people he worked with, but the industry itself. HANYS is proud to honor him with HANYS' 2020 Distinguished Service Award and wish him well in his retirement.
Understanding the issues
Dahill may be best known for leading the Suburban Hospital Alliance of New York State and its affiliated organizations, Nassau-Suffolk Hospital Council and Northern Metropolitan Hospital Association, but it was the beginning of his career that shaped his ability to succeed in that role.
"His deep understanding of the operating side of the hospital made him incredibly sensitive to issues," said Good Samaritan Hospital Medical Center President Ruth Hennessey, who worked with Dahill early in his career.
Dahill began his career as a hospital administrator — first at Columbia Presbyterian Medical Center in New York City, then New York United Hospital Medical Center in Port Chester.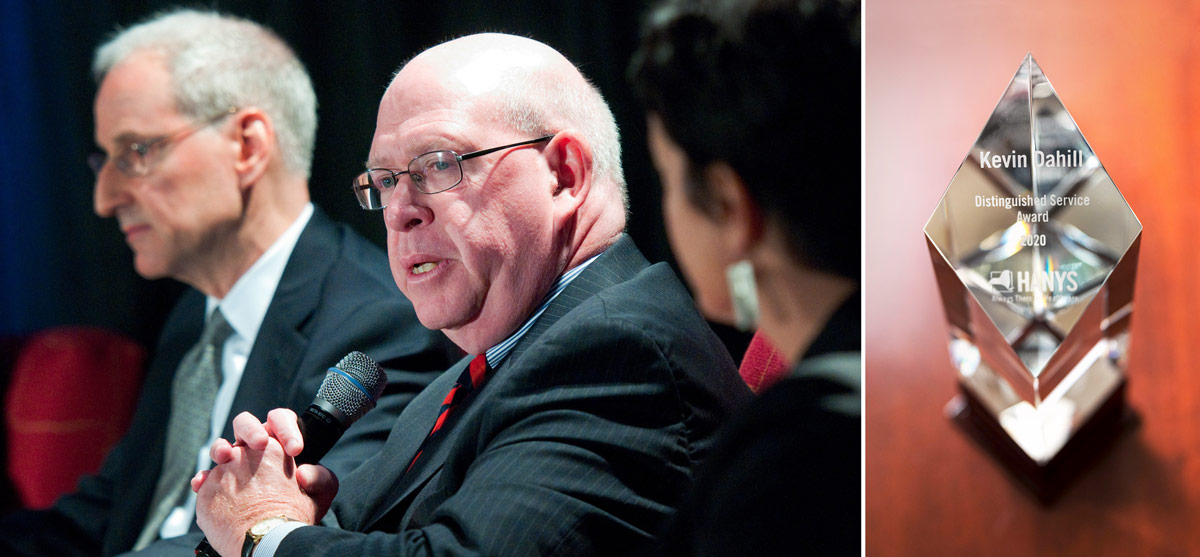 The healthcare industry is an incredibly complex environment with unique workplace cultures, sophisticated technology, clinical jargon and complicated relationships. Having been immersed in that world helped him relate to the many issues facing SHANYS members.
"I think that set him apart from a lot of people," said Michael Spicer, President and CEO of Saint Joseph's Medical Center in Yonkers.
A wealth of knowledge
Dahill's experience in healthcare administration and breadth of knowledge on policy issues has made him an invaluable resource.
"I've really relied on his level of expertise and knowledge very often to point me in the right direction," Spicer said. "He almost always has the answer, and if he doesn't, he knows where to find it."
Dahill has passed much of that knowledge on to Wendy Darwell, vice president and chief operating officer of SHANYS. Darwell was hired by Dahill in 2007 and will succeed him as the next CEO of SHANYS.
"His real legacy as a professional is just the very wise counsel that he's given to people over the years, myself included," Darwell said. "He doesn't hoard information. He has all this incredible knowledge and he shares it."
Leading through crisis
Nassau-Suffolk Hospital Council was in crisis when Dahill became its CEO in 2002. Membership was drifting and divided, finances were a mess and relationships with statewide and national organizations were at an all-time low.
That all changed under his leadership.
Within a few years, Dahill developed new initiatives for the region, forged relationships with area businesses and developed a name for himself as a powerful and valued voice with elected officials.
Then in 2011 came possibly his most impactful move, bringing together Nassau-Suffolk Hospital Council and Northern Metropolitan Hospital Association in the creation of SHANYS.
"He articulates the cause of the hospitals and the healthcare community in a way the business community can understand," said Bill Mooney, former president of Westchester County Association.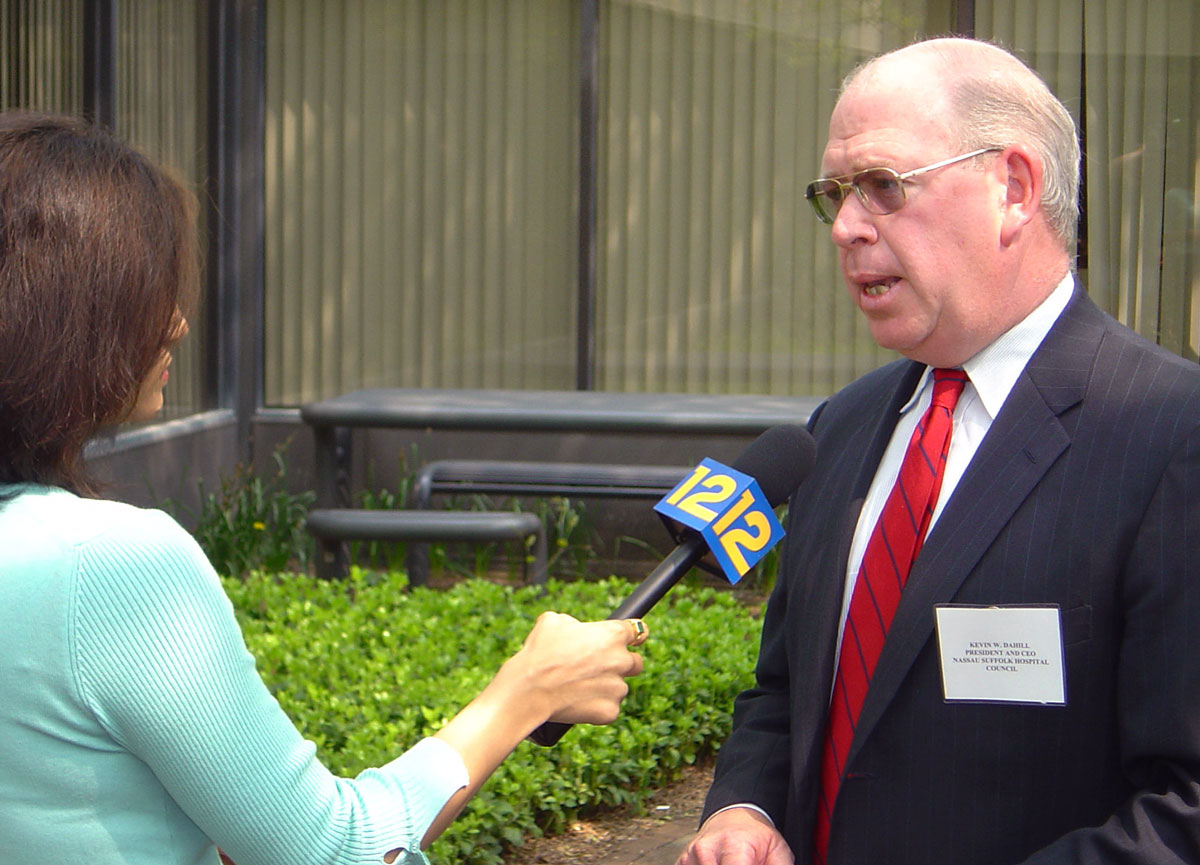 "It's quite amazing when you think about it. He had these two communities, which are huge, speaking up for each other. It showed the power of collaboration," Mooney said.
"If I would associate Kevin with one dynamic, it would be his ability to provide visionary and effective leadership during a monumental time of change in the healthcare system," said Dan Sisto, former HANYS president and CEO.
Dahill's commitment to members meant he was always on the go, visiting the hospitals he served and meeting with CEOs to find out what issues they faced.
"His level of engagement set a new standard for how to engage members," said Bea Grause, HANYS president.
When the COVID-19 pandemic hit hard in the Long Island and Mid-Hudson regions in early 2020, that commitment to members was even more evident.
"He's able to really understand and connect with the CEOs and their teams and meet them where they are," Grause said. "He's just tireless."
Amplifying the impact of hospitals
Dahill was quickly recognized as the voice of suburban hospitals and an active player in the political realm, adept at working with Democrats and Republicans alike.
"He really had a sense of the pulse of what was happening," said former New York State Sen. Kemp Hannon. "He could put it in a great perspective as to where things were going."
Decades of experience and a commitment to member needs made him an invaluable resource.
"He's so grounded he never loses sight, doesn't get involved in petty arguments," Grause said. "It's always about, what does the member need to serve their patients and their community."
Steering the ship
Bringing together the membership under SHANYS was a tall order. But Dahill's understanding of member issues, attention to detail and leadership style led him to success.
"In his quiet demeanor he is able to not only motivate people throughout the region, but get them to work collaboratively towards common goals," Spicer said.
"One of his legacy points is his spirit of collaboration and his ability to navigate incredibly complex situations," Hennessey said. "Kevin has an incredible ability to bring people together."
"To see the kind of commitment he has for the communities that he works in is really something," said Mooney.
The healthcare industry underwent an incredible amount of change during Dahill's time at SHANYS, but his leadership proved up to the challenge.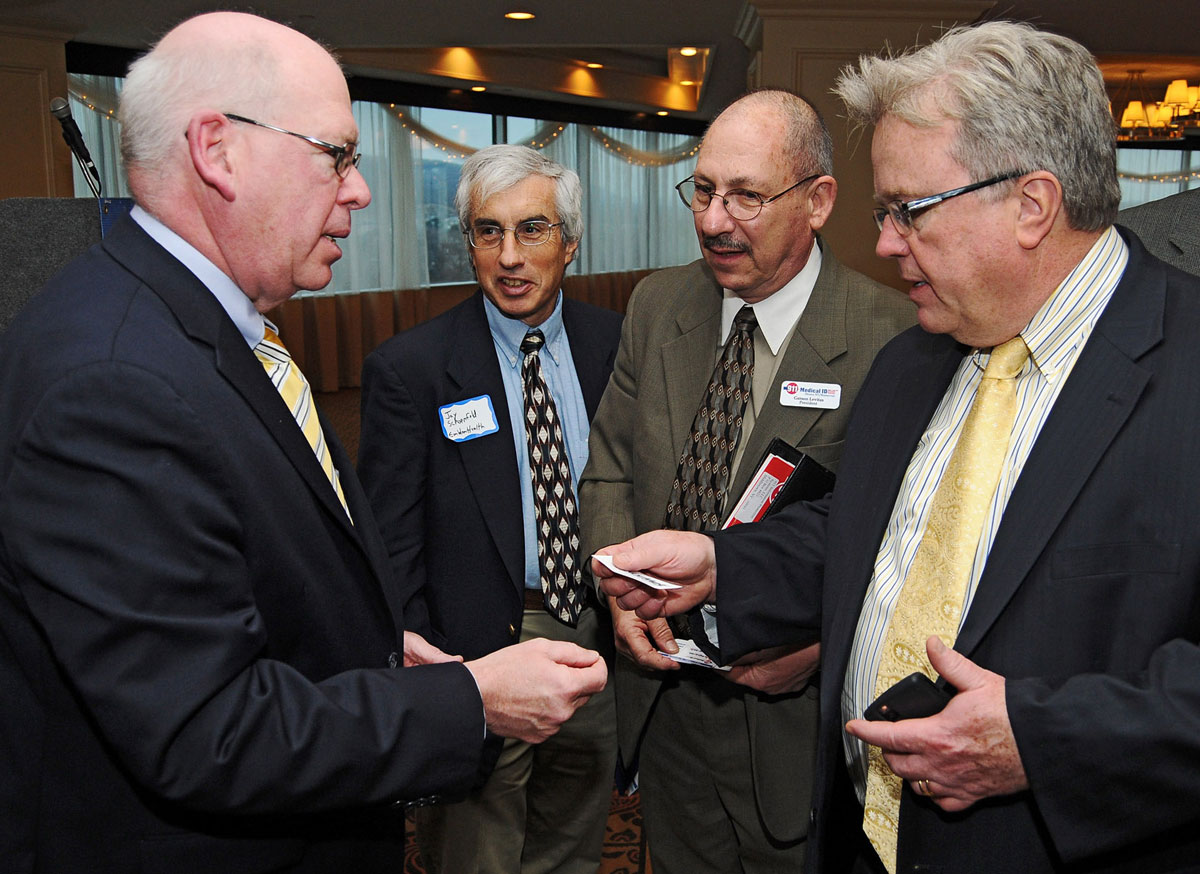 "He's like a sailboat skimming over the turmoil and getting you where you need to go," Sisto said. "Looking back at the time, no one could have done it better than Kevin did."