Online registration for this event is closed.
Please contact learning@hanys.org or call
518-431-7846 if you have questions about the event.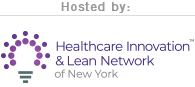 Managing variability in patient flow: Strategies for improving care access, quality and safety
June 15
Webinar
Noon - 1 p.m.
A part of the HILNNY Lean Webinar Series
Open to HANYS members and non-members.
During the COVID-19 pandemic, emphasis on improving care quality and patient safety and decreasing costs intensified. Management of patient flow is essential to achieving these goals as we move beyond the pandemic. While providers are faced with overcrowded facilities, the industry's financial conditions do not allow the provision of needed resources. However, managing variability in patient flow, using providers' existing resources, has been shown to drive unprecedented improvements in patient throughput, working conditions and care quality and safety.
Methodology developed by the Institute for Healthcare Optimization has been endorsed by leading U.S. healthcare organizations. IHO's approach was the central theme of the Joint Commission Resources' 2018 book, Optimizing Patient Flow: Advanced Strategies for Managing Variability to Enhance Access, Quality, and Safety. This webinar will introduce the variability methodology, along with the benefits of applying these principles and practices to the healthcare delivery system. Hospital case studies will be discussed alongside New York state patient flow data.
More information can be found at:
Speaker:
Eugene Litvak, PhD, President and Chief Executive Officer, Institute for Health Care Optimization, and Adjunct Professor, Operations Management, Harvard T.H. Chan School of Public Health
About HILNNY:
The Hospital Innovation and Lean Network of New York is a collaborative network that brings together Lean and innovation practitioners in hospitals and healthcare facilities throughout New York to enhance learning and further the development of organizations' work in innovation, process improvement and change management. As part of HANYS' ongoing commitment to healthcare innovation, we are excited to support the work of HILNNY as a benefit to healthcare organizations across the state.
If you have questions regarding registration, please contact Registration Support at learning@hanys.org or (518) 431- 7867.