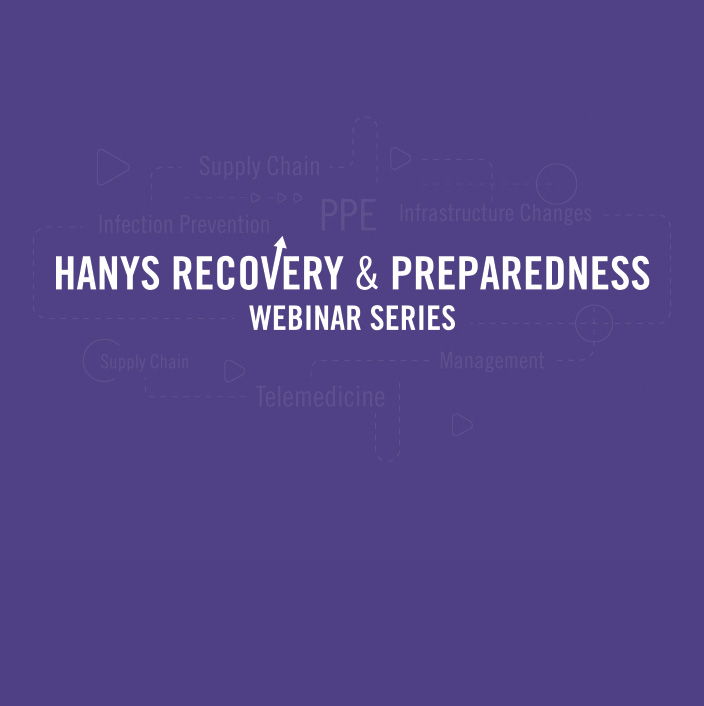 Pandemic Recovery & Preparedness Webinar Series
Overview
The COVID-19 pandemic has forced healthcare organizations and providers to navigate unprecedented operational and clinical challenges, which will continue as the curve flattens and we move toward recovery.
In both surge and recovery phases, healthcare organizations and providers need to re-evaluate their operations and plans for delivering care in a post-pandemic world. As they plan for the "new normal" while battling the second surge of COVID-19, healthcare leaders must consider their use of telemedicine, infection prevention and control practices, supply chain management and infrastructure changes. This webinar series features national and state experts to explore strategies and considerations for the critical phases of the pandemic
NEW Recovery and Preparedness Sessions coming in December.
Pandemic Recovery & Preparedness Webinar Series
Vaccinating our team: From rollout to mandate

A part of HANYS Recovery and Preparedness Webinar Series

Originally recorded on Sept. 21

Using pandemic simulation to train healthcare leaders

This session will focus on a unique teaching tool for healthcare leaders in which they experience the challenges of executive leadership and strategic decision-making in a realistic and competitive multi-hospital marketplace during uncertain times: the Mailman Health System Simulation.

At the end of the session, participants will:

understand approaches for healthcare executives to become more adept at navigating changes and responding to crises at healthcare institutions;
gain insights from a wide range of hospitals on effective crisis response; and
learn how to improve collaboration and teamwork during times of crisis.

Speakers:

Katherine Garrett, Associate Director, The Health System Simulation, Mailman School of Public Health, Columbia University

John S. Winkleman, Director, The Health System Simulation and The Consulting Practice, Mailman School of Public Health, Columbia University

Originally recorded on July 21

How approaching vaccine hesitancy with compassion led a nursing home leader to success

HANYS is pleased to host a conversation with Tina Sandri, chief executive officer, Forest Hills of DC nursing home and senior living community, as she shares her successful efforts in achieving vaccination of 86% of her staff (and still climbing). Sandri has been featured on CNN, Becker's Hospital Review, McKnight's Long-Term Care News and in The New York Times for her unique, trauma-informed and caring approach to vaccine hesitancy. Sandri will share the strategies that successfully led to the significantly large vaccine uptake among her staff.

Originally recorded on May 19

Drivers and strategies for overcoming COVID-19 vaccine hesitancy

COVID-19 vaccine hesitancy remains a challenge for providers, hospitals and post-acute care facilities. In our next session of the HANYS Recovery and Preparedness Webinar Series, Dr. Anuj Mehta, lead, Medical Advisory Group on Crisis Standards of Care and COVID-19 Vaccine Prioritization, Governor's Expert Emergency Epidemic Response Committee, will review current data regarding the COVID-19 vaccines, discuss drivers of vaccine hesitancy and share strategies for overcoming uncertainty among the general public and healthcare personnel.

At the end of this session, participants will understand the following COVID-19 vaccine-related topics:

vaccine mechanisms;
the authorization process;
drivers of vaccine hesitancy among healthcare workers; and
strategies for addressing this hesitancy.

Speaker:
Anuj Mehta, MD, Assistant Professor, Medicine, Pulmonary Sciences and Critical Care, University of Colorado; Critical Care Specialist, National Jewish Health and Denver Health; and Lead, Medical Advisory Group on Crisis Standards of Care and COVID-19 Vaccine Prioritization, Governor's Expert Emergency Epidemic Response Committee

Originally recorded on May 12

Post COVID-19: Caring for patients with long-term symptoms

Description:
This webinar will provide the latest information on how to provide multidisciplinary care for people who exhibit long-term symptoms after COVID-19 infection.

More than 28 million Americans have been infected by SARS-CoV-2 since the beginning of the pandemic, with more than 27 million survivors to date. At least 25% of patients experience persistent symptoms after initial infection, with one in 10 experiencing symptoms well after 12 weeks. For many, symptoms are debilitating and can affect multiple organ systems.

Notably, persistent symptom burden is not restricted to older patients or those with severe disease. Therefore, "long COVID" or "post COVID" syndrome is markedly different from the well recognized post-intensive care syndrome.

Given the complex nature of this condition with multiple implications for patients, a multidisciplinary approach to care is needed.

Objectives: At the end of the presentation, participants will be able to:

describe the spectrum of post-COVID illness, including evolving pulmonary phenotypes; and
outline a clinical blueprint for multidisciplinary care.

Presenter:
Denyse Dawn Lutchmansingh, MD, assistant professor of clinical medicine, associate director of Winchester Chest Clinic, post-COVID recovery program, section of pulmonary, critical care and sleep medicine, Yale University School of Medicine

Originally recorded on April 14, 2021

Leveraging the acute care health system to support long-term care during COVID-19

Description:
This one-hour webinar will examine how Johns Hopkins University School of Medicine developed a model for supporting long-term care facilities during the COVID-19 pandemic.

This session will outline a multidisciplinary team approach to pairing hospitals with community long-term care facilities and discuss how this model was adopted and operationalized statewide.

Objectives: At the end of the presentation, participants will be able to:

understand key challenges facing long-term care facilities during the pandemic;
identify strategies for acute care facilities to address emergent needs of long-term care facilities; and
plan for long-term partnerships between acute care and long-term care to support patients.

Presenters:
Morgan J. Katz, MD, MHS, director of antimicrobial stewardship, Johns Hopkins Bayview; assistant professor infectious disease, Johns Hopkins University School of Medicine

Benjamin Bigelow BS, EMT-P, assistant operations director of patient vaccine clinics, Johns Hopkins Health System

Originally recorded on March 31, 2021

COVID-19: Bacterial and fungal co-infections; Update for clinicians, antimicrobial stewards and infection preventionists

Description:
Hear the latest about bacterial and fungal co-infections in COVID-19 patients. Speakers will discuss data on prevalence of co-infection, risk factors, outcomes, and trends in multidrug resistance during the COVID-19 pandemic.

Objectives: At the end of the presentation, participants will be able to:

understand the prevalence and risk factors for co-infections in COVID-19 patients;
begin developing institutional protocols for detection and management of co-infections;
describe concerning trends in multidrug resistant bacteria and fungi that have emerged during the pandemic; and
develop a plan for antibiotic use monitoring and surveillance for drug-resistant infections during future COVID-19 surges.

Presenters:
Cornelius (Neil) J. Clancy, MD, associate chief of VA Pittsburgh Health System and opportunistic pathogens, associate professor of medicine, director, mycology program chief, infectious diseases section, VA Pittsburgh Health Care System

Priya Nori, MD, associate professor of medicine and orthopedic surgery, Albert Einstein College of Medicine; program director of the infectious diseases fellowship program; Montefiore Health System

Originally recorded on March 24, 2021

MSSNY – Physician Wellness and Peer-to-Peer Program

Description:
Stress and burnout among physicians has been well documented for years. The COVID-19 pandemic is exacerbating the public health problem of physician burnout in New York state. Throughout the pandemic, physicians and other health professionals have faced concerns about safety, overworking and feelings of loss.

Without an intervention, it is possible that a high number of physicians over the next few years may develop chronic stress reactions, anger, clinical depression, substance abuse, post-traumatic stress disorder and suicidality.

Objectives: At the end of the presentation, participants will be able to:

understand why physician wellness is important for the healthcare organization;
recognize and promote the concept that it's okay to not be okay; and
gain tools and resources to encourage physician resiliency and wellness.

Presenter:

• Bonnie Litvack, MD, president, Medical Society of the State of New York

• Charles Rothberg, MD, chair, MSSNY Committee on Physician Wellness

• Frank Dowling, MD, mentor, MSSNY Peer to Peer Program

Originally recorded on March 17, 2021

Hospitalization at Home and the Public Health Emergency Expansion

Description: The popularity of hospital at home models has skyrocketed during the COVID-19 pandemic. This session will provide information on Mount Sinai Health System's hospital-at-home program.

Discussions will include details on the March 2020 expansion of the CMS hospital at home program, Hospital Without Walls, and the launch of the November CMS Acute Hospital Care at Home program waiver.

Objectives: At the end of the presentation, participants will be able to:

understand the hospital and home model;
learn about the requirements for the Medicare Acute Hospital Care at Home program; and
recognize how the emerging model can enhance patient experience, improve outcomes and provide expanded flexibility to care for patients in their homes.

Presenter:
Linda V. DeCherrie, MD, Clinical Director, Mount Sinai at Home, Professor, Department of Geriatrics and Palliative Medicine & Department of Medicine Icahn School of Medicine at Mount Sinai

Originally recorded on February 24, 2021

Advancing Healthcare Professional Well-being During and After a Pandemic: Frameworks to Guide your Approach

Description:
Healthcare worker burnout was an epidemic long before the COVID-19 pandemic arrived. However, COVID-19 has presented many new challenges to our hospitals and healthcare systems while magnifying the workforce issues that already existed.

This webinar will explore organizational approaches to enhance and maintain the well-being of healthcare workers both during and after the pandemic.

Objectives: At the end of the presentation, participants will be able to:

identify frameworks to address sources of stress during a pandemic;
recognize drivers of burnout in a healthcare setting;
understand why frameworks are necessary to create a comprehensive program for well-being; and
identify a consultation model for culture change.

​Presenter:
Gaurava Agarwal, MD, Director of Physician Well-Being, Northwestern Medicine Medical Groups

Originally recorded on February 8, 2021

Healthcare Workers' Preferences for Support and Sources of Distress

Description: Healthcare workers have dealt with extraordinary circumstances during this pandemic, spurring much-needed attention to their mental health. While there are more resources and options than ever before for people seeking mental healthcare, little is understood about the distress healthcare workers experience and their support preferences.

Marwah Abdalla, MD, MPH, will provide an overview of published research findings and work underway to support the well-being of healthcare staff responding to COVID-19.

Objectives: At the end of the presentation, participants will be able to:

describe the psychological impact of COVID-19 among healthcare workers;
recognize sources of distress;
identify interventions preferred by healthcare workers within a large medical center in New York City; and
discuss methods to mitigate the impact of sustained psychological distress.

Originally recorded on February 1, 2021

Severe COVID-19 Infection and ARDS: Managing Patient Care

Description:
Managing the clinical care of patients with severe COVID-19 infection and Acute Respiratory Distress Syndrome is key to optimal outcomes.

This webinar will focus on clinical care management and staffing team issues associated with treating severe COVID-19 patients with ARDS.


Objectives: At the end of the presentation, participants will be able to:

understand clinical management of the severe COVID-19 ARDS patient; and
gain insight into training non-intensive care unit clinicians to supplement staffing teams in the ICU.

Presenter:

Madhavi Parekh, MD, Assistant Professor of Medicine and Director, Medical Critical Care Education, Pulmonary, Allergy and Critical Care Medicine, Columbia University Irving Medical Center

Originally recorded on January 20, 2021

Outpatient monoclonal treatment for COVID-19 from A to Z: Mount Sinai Health System's experience

Description: In this session, the Mount Sinai team will review the steps taken to operationalize the delivery of outpatient COVID-19 monoclonal antibody treatments. Discussions will include clinical considerations, the development of patient eligibility criteria, leveraging technology and considerations for actual medication delivery location infection prevention and clinical treatment.

Objectives: At the end of the presentation, participants will be able to:

understand the value of developing and working with a multidisciplinary team to address the newly available COVID-19 outpatient treatments;
garner insights on how technology can be leveraged in assessing patient eligibility for this treatment;
gain knowledge as to clinical considerations for patient selection and during/post therapy; and
understand infection prevention considerations in treating COVID -19 positive patients in the outpatient setting


Presenters:

Rachel Chasan, MD, Associate Professor, Division of Infectious Diseases; Medical Director, Jack Martin Fund Clinic, Icahn School of Medicine at Mount Sinai

Jeffrey Bander, MD, FACC, Medical Director, Network Development, Mount Sinai Hospital Network; Director of Operations, Cardiology Mount Sinai Hospital West

Melissa Bellino, Vice President, Oncology and Therapeutic Infusion Services, Mount Sinai Health System

Jeffrey Gumprecht, MD, Associate Clinical Professor, Infectious Disease, Mount Sinai Hospital

Originally recorded on January 13, 2021

Providing Patient Care under Extraordinary Conditions during COVID-19: Lessons Learned

Description:
In the spring, when New York's hospitals were at the epicenter of the COVID-19 pandemic, nursing leaders were called upon to develop and implement new and innovative approaches to support the delivery of high-quality patient care under extraordinary conditions, with limited staff and resources. A second surge has emerged with new challenges, and providers' priorities and strategies for ensuring safe patient care have evolved.

During this round-robin panel session, nursing leaders from New York will share lessons learned and their innovative approaches to staff safety, staff shortages and staff resiliency.

Objectives: At the end of the presentation, participants will be able to:

explore strategies to support staff resiliency in the face of COVID fatigue and post-traumatic stress disorder;
understand approaches for staffing; and
identify approaches to keep staff safe at work.

Presenters:
Noreen B. Brennan, PhD, RN-BC, NEA, BC, Chief Nursing Officer, NYC Health and Hospitals/Metropolitan

Nicolette Fiore-Lopez, PhD, RN, CENP, Chief Nursing Officer, St. Charles Hospital Catholic Health Services of Long Island

Courtney Vose, DNP, MBA, APRN, NEA-BC, VP and CNO, New York Presbyterian/Columbia/Allen/ACN-West, Assistant Professor of Clinical Nursing, Columbia University School of Nursing

Originally recorded on January 11, 2021

Practicing in a Pandemic - Addressing Liability Issues and Maintaining a Safe Environment of Care

Description:
Whether you work at a hospital, ambulatory surgery center or a physician office practice, you have faced the unprecedented and rapidly evolving challenges associated with the COVID-19 pandemic. As we enter the second wave of the pandemic, you need to understand the liability risks associated with COVID-19 infections and how best to protect yourself and your organization. This webinar will provide insight into pandemic-related liability risks and how to mitigate them.

Objectives: At the end of the presentation, participants will be able to:

identify the types of allegations anticipated from the pandemic;
discuss the use of telehealth and the potential for arising liability claims;
address liability risks associated with infections occurring in the healthcare setting;
understand the current legal updates associated with COVID-19; and
implement risk management strategies to maintain a safe care environment.

Presenters:

Brian Felton, Esq., Fager Amsler Keller & Schoppmann, LLP

Joyce McCormack, RN, Risk Management Consultant, MLMIC

Originally recorded on December 16, 2020

Influenza in the Time of COVID-19

Description
Learn how to recognize the clinical differences between influenza and COVID-19 and how to apply and promote practical strategies for your patients and communities to help mitigate both influenza and COVID-19 disease.

This webinar will review influenza and COVID-19 epidemiology, clinical and diagnostic assessments and strategies to reduce the burden of disease from concurrent pandemics.

Objectives: Participants will

understand the epidemiological trends of influenza and COVID-19 from February to May 2020;
recognize the clinical differences between influenza and COVID-19 and diagnostic tools available; and
be able to apply and promote practical strategies for your patients and communities to help mitigate the burden of both influenza and COVID-19 disease.

Originally recorded on September 30, 2020

Configuring ICUs in the COVID-19 Era

Description: Dr. Neil Halpern will review the recently released Society for Critical Care Medicines guidance on how to innovate your existing ICU or convert other spaces into an ICU to improve workflow, manage capacity and minimize staff exposure to COVID-19 based on the evolving experiences from more than a dozen hospitals and healthcare professionals on the front line.

Objectives: Participants will

understand new approaches for rapidly expanding ICU bed capacity;
appreciate the shift in ICU care models, both existing and novel, to protect bedside staff from an airborne contagion;
explore governing and managing techniques for novel ICUs to use while educating and integrating redeployed staff; and
determine if hospitals can rely on support from other providers during the next pandemic.

Originally recorded on August 19, 2020

Best Practices in a Crisis: Lessons on Patient and Family Engagement

Description:
Hospitals work hard to improve patient and family engagement to enhance the patient experience and promote high-quality care and clinical outcomes. While it may be tempting to classify patient and family engagement efforts as "on hold" due to the COVID-19 crisis, a closer look at the day-to-day practices of frontline clinicians reveals an amazing combination of real-time tests of change, innovation and improved practices.

In this webinar, you will learn what COVID-19 crisis care practices can be applied to day-to-day care processes to enhance patient and family engagement. You will also explore practices that we will need to implement if a second wave of COVID-19 occurs.

Objectives: Attendees will be able to:

recognize at least three COVID-19 crisis-response practices as innovations that represent meaningful improvements in patient and family engagement;
identify at least one practice to continue as part of day-to-day operations; and
identify at least one practice to return to if a second wave of COVID-19 occurs.

Originally recorded on July 15, 2020

Facilities and Engineering Considerations

The COVID-19 pandemic's significant impact on the physical environment has offered challenges and learning experiences. In this webinar, you will learn about tackling immediate needs and preplanning for recovery. It will explore healthcare facility measures for addressing immediate, short- and long-term needs regarding inspection, testing, maintenance, sustainability and readiness for the "new normal." There will be an opportunity to ask questions.

Objectives: Attendees will be able to:

understand the impact that the pandemic has had on the physical environment;
have the tools to manage preplanning and immediate needs in your healthcare facility's recovery effort; and
be prepared to lead the recovery effort.

Originally recorded on June 10, 2020

Mind, Body, Spirit: Innovative Ways to Support Healthcare Teams During Times of Crisis

Learn about innovative ways to support healthcare teams during the COVID-19 pandemic. Leaders in behavioral health from United Health Services Hospitals' Binghamton General Hospital and Northwell Health System's Mather Hospital will discuss the importance of fostering staff well-being as they continue to provide quality care. They will also share strategies undertaken to strengthen staff resiliency.

Objectives: At the end of the webinar, participants will be able to:

understand the importance of supporting staff as they care for patients ill with COVID-19;
describe strategies to strengthen staff resilience during the pandemic response; and
identify tools for early identification of burnout and traumatic stress.

Originally recorded on May 20, 2020

Infection Control - Lessons Learned and Managing the New Normal

This webinar will explore operational issues to consider as you prepare for the "new normal" and cover how providers are using LEAN to design and test care delivery areas.

Objectives: At this webinar, you will:

learn how health systems operationalized COVID-19 infection prevention guidance;
share lessons learned and discuss key clinical and operational considerations when preparing for the new normal; and
learn an organizational approach to continuously redesigning patient flow and environments with respect to new and existing infection prevention guidance leveraging Lean methodology and human factors/systems thinking.

Originally recorded on May 11, 2020
Past Webinars
Managing variability in patient flow: Strategies for improving care access, quality and safety

A part of the HILNNY Lean Webinar Series

Originally recorded on June 15

Patient Access to Health Information During COVID-19 — Emerging Innovations and Benefits

Description: The rapid adoption of telemedicine and patient desire for health information such as clinician notes and lab results during the COVID-19 pandemic has resulted in increased registration and use of secure, online patient portals. This webinar will focus on the benefits of giving patients easy access to their health information, and explore opportunities surrounding health data interoperability in the context of COVID-19.

Today's health system innovators are "practicing on the portal" via increased transparency through the cogeneration of notes, increased proxy access to notes and other strategies. Easy access to inpatient information may moderate stress for patients and families during the pandemic. The first required elements of the 21st Century CURES Act begin Nov. 2, further supporting an information revolution that gives patients access to their electronic medical records.

Objectives: Participants will

be able to describe the benefits of easy patient access to health information based on research focused on ambulatory notes;
hear about the positive experiences many health systems are experiencing due to increased patient portal use, easy access to lab results (including COVID-19 tests) and easy access to notes from telemedicine visits;
learn about innovations such as cogeneration of notes, proxy/family access to inpatient notes and OpenNotes; and
learn about the New York State Health Foundation and OpenNotes collaboration and opportunities for partnership.

Originally recorded on August 26, 2020

Moving Telehealth and Digital Care beyond COVID-19

Description:
The COVID-19 pandemic has made telehealth a household word. Virtual care has become a necessary and accepted care delivery solution, successfully bringing the doctor's office into the home. With the significant gains telehealth has made during this health crisis, combined with an existing provider shortage, an aging population and the explosion of chronic disease, this is the opportunity to reimagine healthcare delivery. Learn how telehealth solutions – from one-to-many models of care, to digital biomarkers and asynchronous telehealth, chat bots and symptom checkers – can create a fully integrated digital and in-person experience.

Objectives:

gain an understanding of how telehealth and digital care tools supported ongoing, safe and effective care delivery during the COVID-19 pandemic and the role of telehealth post-pandemic;
learn about the policy changes made to expand access to telehealth in response to COVID-19 and the flexibilities that need to be made permanent following the national health emergency;
identify emerging technologies and telehealth solutions that can create fully integrated care delivery and improve the patient experience; and
identify strategies for integrating these digital care tools into your clinical and operational functions moving forward.

Originally recorded on August 17, 2020

Coastal Storm Evacuation Planning

Description:
Healthcare facility evacuation in a coastal storm scenario presents unique challenges and planning factors. This presentation will provide an overview of the DOH Healthcare Facility Evacuation Center for coastal storm response and identify unique challenges related to patient movement and evacuation with consideration of COVID-19. You will have an opportunity to learn about HEC operations and discuss planning considerations to best prepare for coastal storm response.

Objectives:

understand New York state's HEC coastal storm response;
discuss current considerations for patient movement and evacuation during the COVID-19 pandemic; and
plan for healthcare facility evacuation in advance of a coastal storm.

Originally recorded on July 29, 2020

A Trauma-informed Behavioral Healthcare Approach to Advance Health Equity

Description:
The COVID-19 pandemic is causing pervasive trauma that impacts the mental health of individuals and communities, disproportionately affecting populations already at higher risk of trauma. This webinar will offer insight into how healthcare providers can shift behavioral healthcare delivery by leveraging trauma-informed practices to support the overall health of the organization, engage patients and families and help address systemic health disparities.

Objectives:

recognize the connection between social determinants of health and trauma;
describe the impact of trauma on patient and family engagement, and treatment outcomes;
describe how trauma-informed responses help address systemic health disparities; and
identify trauma-informed best practices that promote patient and staff engagement and contribute to health equity.

Originally recorded on July 27, 2020

Improving Experience of Families who Lost Their Loved Ones in the ICU Before and During COVID-19 Pandemic

Description:
Studies have shown that family members who have lost loved ones in hospital settings have greater risk of depression, anxiety and post-traumatic stress disorder. BronxCare Health System created a family-centered care team composed of nurses, doctors, social workers and spiritual advisors to facilitate the experience of families who have lost their relatives in the intensive care unit. The team has significantly enhanced access to end-of-life resources and provides support to ICU staff caring for dying patients.

During the pandemic, all internal hospital systems at BronxCare were initially overwhelmed by an unexpectedly high number of deaths among COVID-19 patients, which activated the family-centered care emergency response system to work with families in need.

Objectives: Attendees will learn how:

the death of loved ones in hospital settings impact family members as well as the medical staff caring for patients;
BronxCare's family-centered care initiative facilitates the experience of families who have lost relatives in the ICU; and
BronxCare Health System responded to the needs of grieving families during the Coronavirus pandemic and how they've been preparing for the next potential COVID-19 surge.

Originally recorded on July 22, 2020

COVID-19 Care Collaborative — Sharing Lessons Learned to Prepare for the Future

Description:
The outbreak of COVID-19 posed unprecedented clinical and operational challenges for the hospitals on the front lines of the first wave. These include high patient census and acuity, the uncertain nature and prognosis of the disease, increased communication needs related to visitor restrictions, resource shortages, the need to train and support redeployed clinicians and the demand for expanded palliative care services. In the pandemic's epicenter of New York City, Weill Cornell Medical Center addressed these issues in innovative ways.

In this session, you will hear about lessons learned from the crisis response efforts at Weill Cornell and how this experience and knowledge can be harnessed, both to help those who are now facing their first surge of COVID-19 cases, and to better prepare for the next wave.

Objectives:

review the COVID-19 first wave and response at Weill Cornell;
identify core areas of COVID-19 crisis preparation; and
discuss the future direction of a collaborative consortium created to efficiently disseminate COVID-19 clinical and operational expertise.

Originally recorded on July 20, 2020

Restoring Patient Confidence Post-COVID-19

Description:
The first six months of this year have been a "messaging yo-yo" for hospitals. During the initial stages of the COVID-19 pandemic, the emphasis was on staying away from hospitals unless absolutely necessary so as not to overwhelm the system. Now, ready to conduct elective surgeries and eager to make sure patients get the healthcare services they need, hospitals must make their patients feel comfortable returning. Hospitals are quickly pivoting to messages about safety, cleanliness and new patient protection measures.

During this session you will learn more about how hospital marketing and communications professionals have addressed the challenge of restoring patient volume by restoring patient confidence.

Objectives: You will learn:

the importance of trust before, during and after a crisis;
the challenges of balancing internal and external communications and how best to ensure clear, concise and beneficial information to both audiences; and
the importance of transparency and the involvement of clinical leaders in restoring confidence in elective procedure safety.

Originally recorded on July 6, 2020

Federal Updates on Behavioral Health

Description:
There is growing recognition of the major mental health challenges presented by the COVID-19 pandemic. The U.S. Department of Health and Human Services' Substance Abuse and Mental Health Services Administration will provide an update on what is known about behavioral health impacts and work underway to advance mental health.

Objectives:

discuss current impacts of the COVID-19 pandemic on behavioral health;
describe federal behavioral health initiatives and connections to patient care; and
identify new community resources available to patients.

Originally recorded on July 1, 2020

Preserving Family Presence During Challenging Times: Considerations and Practical Strategies

The outbreak of COVID-19 resulted in widespread restrictions to family presence in hospitals, nursing homes and other care settings. While many care settings are now instituting visitation for compassionate exceptions like end-of-life, this is just the beginning and guidance is needed as restrictions are lifted. With new knowledge about the virus and greater experience with keeping people safe, family presence policies can be revisited to align with new realities.

Last month, a global coalition of patient and family advocates, quality and safety experts and clinicians came together to develop recommendations that provide guidance to healthcare organizations planning for responsible, compassionate family presence during – and in the aftermath – of COVID-19.

During this session you will learn more about these guidelines and ways you can use them within your organization to ensure your family presence policies and practices appropriately balance risks and benefits.

Objectives: Attendees will learn:

guiding principles to inform organization-specific efforts to maximize opportunities for family presence and participation while limiting the risk to patients, residents, family caregivers and staff; and

the distinction between casual visitation and the essential role that family care partners play as members of the care team.

Originally recorded on June 29, 2020

Review of The Joint Commission's Plan for Resuming Surveys

This presentation will provide an overview of The Joint Commission's decision and plan to resume surveys in "low-risk" areas. This webinar will also highlight changes to the survey process that will occur as a result of the pandemic, such as physical distancing and the enhanced use of technology. You will also have the opportunity to offer suggestions and recommendations to TJC regarding the proposed survey changes and how TJC can support hospitals going forward.

Objectives:

to provide an overview of The Joint Commission's decision and plan to resume surveys in "low-risk" areas;
to highlight changes to the survey process that will occur as a result of the COVID-19 pandemic; and
to understand how TJC can support hospitals going forward.

Originally recorded on June 22, 2020

A Psychological Framework for Supporting Staff Facing Crisis

The healthcare community is facing unparalleled challenges. In this session, you will learn action-oriented strategies for helping personnel develop coping skills and remove obstacles to personal and professional satisfaction. Francis Battisi, PhD, former executive vice president and chief academic officer for SUNY Broome Community College, SUNY distinguished professor of psychology and psychotherapist, will share a framework to support healthcare staff resilience during times of crisis.

Objectives: Attendees will be able to:

describe the principles of positive psychology;
understand the theory and practice of developing a resilient mindset; and
identify life-enhancement strategies.

Originally recorded on June 15, 2020

Leveraging Philanthropy as a Revenue Source for Recovery

As healthcare sets a path to recovery from COVID-19, philanthropy can be a valuable part of the solution. Philanthropy — voluntary, charitable giving from individuals, corporations and foundations — can be a valuable, alternative revenue source to hospitals, with a strong return on investment.

This session provides a practical and actionable roadmap for strategically leveraging giving.

Objectives: This session will explore:

the rationale for philanthropy as a revenue source;
how giving is impacted in a time of crisis;
how organizations must reposition to maximize money raised at this time;
how to position philanthropy in a time of furloughs and layoffs; and
how trustees and other allies can continue to be allies and advocates.

Originally recorded on June 3, 2020

Hospice and Palliative Care: Strategies for Future Care

Hospice and palliative care services are a vital component of care for those facing serious illness and end of life. In the era of the pandemic, the probable second wave, and its aftermath, this presentation will provide useful strategies for the future in caring for your patients and communities with serious and life-limiting illnesses.

Objectives: At the end of the webinar, participants will be able to:

describe the value of grief counseling for healthcare providers, for hospice families and for families who have lost a loved one during the pandemic, providing Comfort in a Storm;
list two reasons to initiate advance care planning and MOLST processes within your organization;
describe the criteria for admission to hospice care and how hospice care meets the needs of those dying from acute and chronic illness; and
differentiate the difference between hospice and palliative care.

Originally recorded on May 27, 2020

Strategies for Controlling the Spread of COVID-19 in Post-acute Care Facilities

This webinar will provide an overview of COVID-19 in nursing homes and assisted living as well as address common challenges and the lessons learned when dealing with outbreaks in these facilities. Participants will have the opportunity to ask questions related to managing these outbreaks and preventing the spread of COVID-19.

Objectives: At the end of the webinar, you will be able to:

prepare for COVID-19 introduction in your facility;
recognize the role of testing of staff and residents in managing outbreaks;
determine to value and limitations of cohorting of COVID-19 positive residents; and
discuss how to extend the use of personal protective equipment.

Originally recorded on May 22, 2020

Reflections on Recovery and the Way Forward

John Lynch, MD, MPH, and his staff at the University of Washington Harborview Medical Center experienced one of the first surges of COVID-19 in the United States. This session will explore insights from a physician's perspective related to what has evolved and lessons learned. Dr. Lynch will discuss the "next part of the story" as they prepare for the future and reinvent what healthcare may look like at our facilities in the future.

Objectives:
At the end of the webinar, participants will be able to:

discuss the major challenges faced by hospitals during the surge;
discuss possible models for clinics and inpatient care going forward; and
highlight continuing healthcare vulnerabilities.

Originally recorded on May 18, 2020

Strengthening your Hospital's Supply Chain Operations Post-COVID

During COVID-19 pandemic, critical supplies have been in short supply and some cases, unavailable. This presentation will provide strategies and solutions to prepare for resuming deferred procedures while creating a reserve for a potential second wave.

Objectives:

understand what happened to the supply chain during the COVID-19 pandemic and examine the current state of the supply chain;
understand the drivers of PPE supply, utilization and conservation methods;
have the tools and information necessary to understand the quantities of supplies needed and to be able to manage those supplie; and
understand and develop traditional and non-traditional sources for PPE.

Originally recorded on May 13, 2020

Organizational Change in the New Normal

This session will explore managing a workforce with both in-person and remote team members, including remote worker inclusivity, adjusting roles and responsibilities, and how to ensure that your organizational culture is upheld regardless of work location. We will discuss change management approaches and practical take-aways.

Objectives: At the end of the webinar, you will be able to:

understand the role of organizational change and culture when designing a post-pandemic workforce;
identify considerations when creating a mix of in-person and remote teams to ensure sustainability and inclusivity; and
explore change management best practices.

Originally recorded on May 6, 2020

Safely Resuming Elective Procedures

Gov. Cuomo announced elective outpatient treatments can resume on April 28 in counties and hospitals without significant risk of a COVID-19 surge. However, the state has not yet issued guidance.

To ensure these services can be resumed safely, the American College of Surgeons and other associations created a roadmap to guide readiness, prioritization and scheduling.

This webinar discusses local level decision making and considerations to guide physicians, nurses and facilities in their resumption of elective surgery care and review the issues to consider for operating rooms and all procedural areas, factoring in timing, testing, adequate equipment, prioritization and scheduling, data collection and management, COVID-19-related safety and risk mitigation surrounding a second wave.

As the COVID-19 curve continues to flatten, Gov. Cuomo has lifted restrictions on elective surgeries in regions where hospital capacity and the rate of new infections do not present a significant risk of a surge in new positive cases. To ensure patients can have elective surgeries as soon as safely possible, the American Hospital Association, American College of Surgeons, American Society of Anesthesiologists and Association of periOperative Registered Nurses developed a roadmap to guide resuming elective surgeries.

Originally recorded on April 27, 2020