2018 Trustee Conference: From Forecasting the Future to Today's Key Topics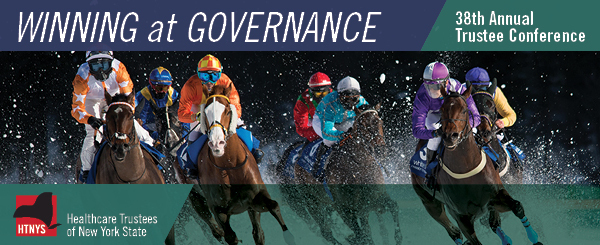 HTNYS is excited to announce another compelling speaker and several breakout topics for our 2018 Trustee Conference in Saratoga, September 14-16.
Tomorrow Will Change Even Faster Than Today
Jack Uldrich, Global futurist and best-selling author
Just when you thought healthcare couldn't change any faster, it does. Acclaimed futurist Jack Uldrich will examine how consumerism, emerging technology, and unique partnerships will continue to disrupt the delivery of healthcare and how boards can help their hospitals get out in front of it. And, with the future being "predictably, unpredictable," he will help trustees gain the actionable insight and foresight they need to lead their hospitals through change and plan strategically for the future.
Breakout Strategy Sessions
We're offering a broad range of topics relevant to your trustee role:
Creating the Conditions for Effective Board-Physician Relationships
Hospitals as Bridges Out of Poverty
Partners in Behavioral Health
From Good to Great Governance—Using Board Self-Assessment to Achieve Excellence
Diversity and Inclusion Evolution
It Takes a County: Fulton County's Telehealth Pilot
Online registration opens in early July. Join us in Saratoga Springs! Contact: Sue Ellen Wagner
Published May 4, 2018