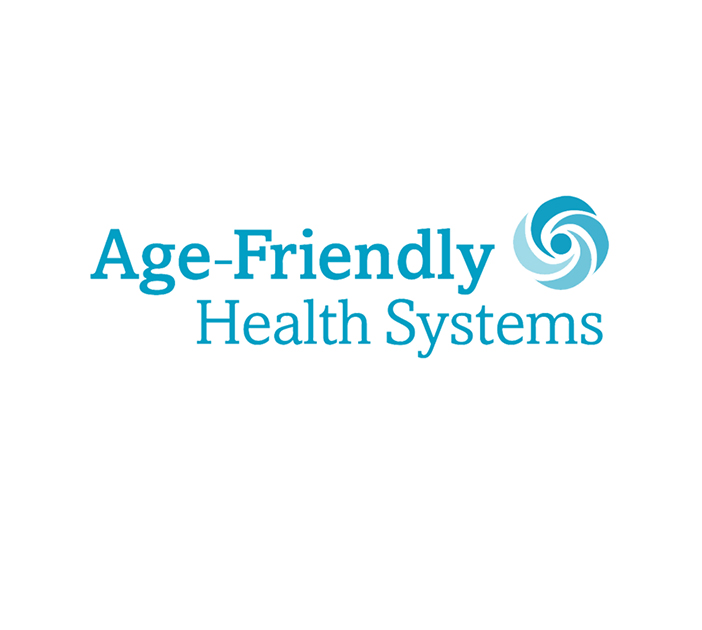 Overview
Age-Friendly Health Systems, New York State Action Community
Age-Friendly Health Systems is an initiative of The John A. Hartford Foundation and the Institute for Healthcare Improvement in partnership with the American Hospital Association and the Catholic Health Association of the United States.
Older New Yorkers participate meaningfully in community and family life now more than ever. However, they continue to face challenges accessing patient-centered care. These challenges — from overmedication to falls and treatable cognitive concerns — are largely preventable.
What is an Age-Friendly Health System?
© 2021 Institute for Healthcare Improvement
Age-Friendly Health Systems use a set of four evidence-based elements to organize the care of older adults, known as the "4Ms": What Matters, Medication, Mentation and Mobility. The 4Ms are essential components of high-quality care for older adults, and when implemented together, result in significant improvements. Age-Friendly facilities see improved patient experience scores, as well as quality outcomes such as readmissions, emergency department utilization and length of stay.
HANYS launched the New York State Age-Friendly Action Community in 2020 with support from NYSDOH, The John A. Hartford Foundation and the Institute for Healthcare Improvement. The Action Community helps participant health systems accelerate the adoption of 4Ms care, using an "all teach, all learn" model. Participant teams receive group education through monthly webinars and topical coaching calls and attend a half-day virtual summit. Teams then perform tests of change to identify which approaches work best in their unique care settings. Under the expert guidance of the HANYS team and our four faculty, teams then scale and spread 4Ms care across their facility, transforming the care delivered to older adults. Sites will earn official recognition from IHI as Age-Friendly Health System participants.
Age-Friendly Health Systems in New York State
Age-Friendly Health Systems, Committed to Care Excellence (62)
Allegheny Health Network – Westfield Memorial Hospital
BronxCare Health System* – Poe Medical Clinic
Catholic Health* – Mercy Hospital of Buffalo
Community Health Center of Buffalo*
Erie County Medical Center*
Jamaica Hospital* – Ambulatory Care Center/Family Medicine Center, Jamaica Hospital Medical Center, Jamaica Hospital Medical Center Emergency Department, Flushing Hospital Medical Center, Jamaica Hospital Nursing Home
Loretto Central New York – PACE CNY
Memorial Sloan Kettering Cancer Center* - Department of Geriatric Medicine
Montefiore Health System* – Center of Excellence for Alzheimer's Disease
Mount Sinai Health System* – Mount Sinai South Nassau, Mount Sinai Morningside
Northwell Health* – Glen Cove Hospital, LIJ-Forest Hills Hospital, LIJ-New Hyde Park, Mather Hospital, North Shore University Hospital, Peconic Pay Medical Center, Phelps Hospital, Plainview Hospital, Syosset Hospital
NYU Langone Health – NYU Langone Hospital Brooklyn, NYU Langone Orthopedic Hospital, Tisch Hospital
Riverside Health Care System – Andrus Pavilion, Dobbs Ferry
Rochester Regional Health* –Clifton Springs Living Center, DeMay Living Center, Edna Tina, Park Ridge Living Center, Unity Living Center, Wilson Living Center; ElderOne; St. Lawrence Health – Canton Potsdam Hospital, Gouverneur Hospital and Massena Hospital
Roswell Park Comprehensive Cancer Center
Stony Brook Medicine – Stony Brook University Hospital
SUNY Downstate* – Center of Excellence for Alzheimer's Disease, Geriatric Psychiatry
SUNY Upstate Medical University* – University Geriatricians, Upstate University Community Hospital
The Albany Med Health System* – Saratoga Hospital
UHS Primary Care* – Binghamton, Candor, Clinton Street, Deposit, Endicott, Endwell, Greene, Johnson City, Newark Valley, Oneonta, Owego, Robinson Street, Upper Front Street, Vestal, Windsor
University of Rochester Medical Center – Highland Hospital*, Strong Memorial Hospital
Veterans Health Administration* – Albany Stratton VA Medical Center Home Based Primary Care
Age-Friendly Health Systems Participants (179)
Adirondack Health
Bassett Healthcare Network* – A. O. Fox Hospital, Bassett Medical Center, Cobleskill Regional Hospital, Little Falls Hospital, O'Connor Hospital
BMS Family Health and Wellness – Primary Care Practice
Brownsville Multi-Service Family Health Center
Catholic Health* – St. Charles Hospital, Trinity Health PACE – Catholic Health LIFE, Mount St. Mary's Hospital
Crouse Hospital*
Episcopal Health Services* – St. John's Episcopal Hospital
Finger Lakes Health* – Huntington Living Center
Frontier Occupational Therapy, PC
Hematology-Oncology Associates of Central New York – Auburn, Brittonfield, Oncondaga Hill
Institute for Family Health, Harlem*
Jamaica Hospital* – Ambulatory Care/Family Medicine Center
Janian Medical Care*
Maimonides Medical Center*
Monroe Community Hospital*
Montefiore – Montefiore Medical Center: Geriatrics Ambulatory Practice*, Williamsbridge Family Practice
Mount Sinai Health System – Mount Sinai West ED
NewYork-Presbyterian Hospital / Allen, New York-Presbyterian Hospital / Queens*
Northwell Health* – Cardiology and Internal Medicine at Garden City; Cardiology and Medicine Specialties at Astoria; Cardiology and Medicine Specialties at Merrick; Croton-On-Hudson; Family Health Center; Family Medicine and Nephrology at Islip; Family Medicine at Commack; Family Medicine at Dobbs Ferry; Family Medicine at East Islip - 369 E. Main Street, East Islip; Family Medicine at Huntington; Family Medicine at Islandia; Family Medicine at Islip - Islip Avenue; Family Medicine at Lindenhurst; Family Medicine at Locust Valley; Family Medicine at Lynbrook; Family Medicine at Plainview; Family Medicine at Port Jefferson; Family Medicine at Port Washington; Family Medicine at Riverhead; Family Medicine at Smithtown; Family Medicine at St. James; Family Medicine at Wading River; Gastroenterology at Lake Success; General Internal Medicine; Geriatric and Internal Medicine Ambulatory Care at Staten Island University Hospital; Glen Cove Family Medicine Group; Huntington Hospital; Infectious Disease and Internal Medicine at Babylon; Internal Medicine at Bay Shore; Internal Medicine at Bay Shore - Howells Road - 200 Howells Road, Bay Shore; Internal Medicine at East Hills; Internal Medicine at Farmingdale; Internal Medicine at Glen Cove; Internal Medicine at Lake Success; Internal Medicine at Manhasset; Internal Medicine at New Hyde Park; Internal Medicine at Plainview; Internal Medicine at Rockaway Park; Internal Medicine at Valley Stream; Lenox Hill Hospital; Long Island Jewish - Valley Stream; Medical Specialties at Phelps; Medicine at 1085 Park Avenue; Medicine at 122 East 76th Street; Medicine at 927 Park Avenue; Medicine at East 85th Street; Medicine at Huntington; Medicine at Ossining; Medicine at Woodbury - 321 Crossways Park Drive, Woodbury; Medicine Specialties and Cardiology at Lynbrook; Medicine Specialties at Bayside; Medicine Specialties at Baysite Bell Boulevard; Medicine Specialties at Bellmore; Medicine Specialties at Dobbs Ferry; Medicine Specialties at Glen Oaks; Medicine Specialties at Great Neck; Medicine Specialties at Manhasset; Medicine Specialties at Rego Park; Medicine Specialties at Sleepy Hollow; Medicine Specialties at Tarrytown; Multi Specialty at Patchogue; NHPP Geriatrics and Palliative Medicine at New Hyde Park; NHPP Geriatrics and Palliative Medicine at Phelps; NHPP Internal Medicine at Northport; NHPP Internal Medicine at Plainview (James T. Lainiotis); Northern Westchester Hospital; Northwell Health Physician Partners at Chelsea North; Northwell Health Physician Partners Chelsea South; Northwell Health Physician Partners Medicine at East 59th Street; Orzac Center for Rehabilitation; Peconic Bay Skilled Nursing Facility; SIUH South; South Shore University Hospital; Staten Island University Hospital; Staten Island University Hospital Medical Arts Pavilion; Stern Family Center for Rehabilitation, Zucker Hillside Psychiatric Hospital – Inpatient, Zucker Hillside Psychiatric Hospital - Outpatient
NYC Health + Hospitals – Bellevue Hospital Geriatrics Clinic, Kings County Adult Primary Care
Our Lady of Lourdes, Inc.* – Lourdes Senior Care
Parker Jewish Institute for Health Care and Rehabilitation
Rochester Regional Health* – Clifton Springs Hospital & Clinic, Hill Haven, Newark-Wayne Community Hospital, Rochester General Hospital, Rochester Regional Health Home Care, United Memorial Medical Center, Unity Hospital
Ryan Health – Frederick Douglass, NENA, Thelma Adair, Wadsworth, West 97th Street
SBH Health System* – St. Barnabas Geriatric Ambulatory Clinic, St. Barnabas Hospital (Emergency Department and Geriatric Inpatient Unit)
St. Peter's Health Partners* – Our Lady of Mercy Life Center, St. Peter's Nursing and Rehabilitation Center, Trinity Health PACE – Eddy Senior Care
SUNY Downstate Health Sciences University* – University Hospital-Ambulatory Care
T2 CareSight Patient Care Analytics – Upstate New York CareSight
The Albany Med Health System* – Glens Falls Hospital's Center of Excellence for Alzheimer's Disease, Columbia Memorial Health Broadway Family Care Center, Cairo Family Care Center, Callan Family Care Center, Chatham & Ghent Family Care Center, CMH Lafayette Family Care, CMH Main Street Family Care, CMH Tannersville Family Care, Columbia Memorial Family Care – Hudson Office, Coxsackie Medical Care, Hudson Medical Care, Jefferson Heights Family Care Center – Greene Medical Arts, Kinderhook Medical Care – Ocean State Job Lot Plaza, Prime Medical Care – Greene Medical Arts, Valatie Family Care Center – Ocean State Job Lot Plasa, Windham Medical Care
The Chautauqua Center* – Dunkirk, Jamestown
The Institute for Family Health* – Family Health Center of Harlem
University of Rochester* – Geriatric Fracture Center, Hospital-Medical/Surgical Unit, Jones Memorial Hospital, Jones Memorial Medical Practices (Family Medicine-Andover, Family Practice-Belmont, Family Practice-Bolivar, Family Practice-Wellsville at Loder Street, Family Practice-Wellsville at Martin Street and Family Practice-Wellsville at North Main Street), SOCARE Clinic: Specialized Oncology Care and Research for Our Elders Clinic at Wilmot Cancer Center, UR Medicine Geriatrics Group
University of Vermont Health Network* – Elizabethtown Community Hospital
Veterans Health Administration* – Northport Community Living Center, Northport VA Medical Center Home-based Primary Care, Northport Palliative Care, Syracuse VA Medical Center Emergency Department, Syracuse VA Medical Center Home Based Primary Care (HBPC)
WMCHealth – Bon Secours Charity Health System* (Primary, Cox Medical, Dr. Walter Kaufmann, Dr. G. Shah Internal Medicine, First Care Physicians, Goshen Medical Associates, Highland Mills Internal Medicine, Hudson Valley Medical Associates, Monroe Internal Medicine, Nanuet Medical Associates, Primary Care of Rockland, Rockland Pulmonary & Medical Association, Suffern Internal Medicine, Tendler Internal Medicine, Warwick Family Practice)
Wyoming County Community Hospital*
*HANYS New York Action Community participant
Resources